Discussion Starter
·
#1
·
Now there's one.
If you've been having issues with your cooling system, leaks, possibly bubbles in your coolant reservoir or any sort of problem, this DIY might answer some of your questions.
Firstly lets get some stuff straight. ANY audi/vw engine in the mkiv era was designed to run on G12, G12+ or G12++ FOR A REASON. Because of the nature of the 1.8t and vr6 engines, because of flow patterns through the block, CANADIAN TIRE COOLANT EATS HEAD GASKETS. This is the main reason why you are to use G12, and not any other brand (prestone etc). Honestly, coughing up $40 for some pink gold is better than 1600 for a new head gasket.
You can not, ever, not even if there's a fire, mix G12 with other coolants. It will jell up and then you have a serious serious problem.
If you see constant bubbles in your coolant, and its either a brown or greenish, that is a very good indication of both exhaust gasses leaking into your coolant, and oil mixing with coolant. Not to go too deep into it, but the main cause of those are head gasket failures and leaks.
Lets get started.
TOOLS:
G12++
Distilled water (DO NOT USE TAP OR ANYTHING OTHER THAN)
Hose
Channel Locks
Torx-20 bit/key
Step One:
LET YOUR CAR COOL DOWN OVERNIGHT. Coolant gets extremlely hot, and trying to do a flush, or anything with your coolant when the car is hot is a stuipid idea. Even though your temp sensor says 90 degrees, thats in a pressurized system and when exposed to atmosphere, the temperature can raise upwards of 30 degrees Celsius.
BTW america, Get with the times
Step Two:
1. Jack your car up, and support it with jackstands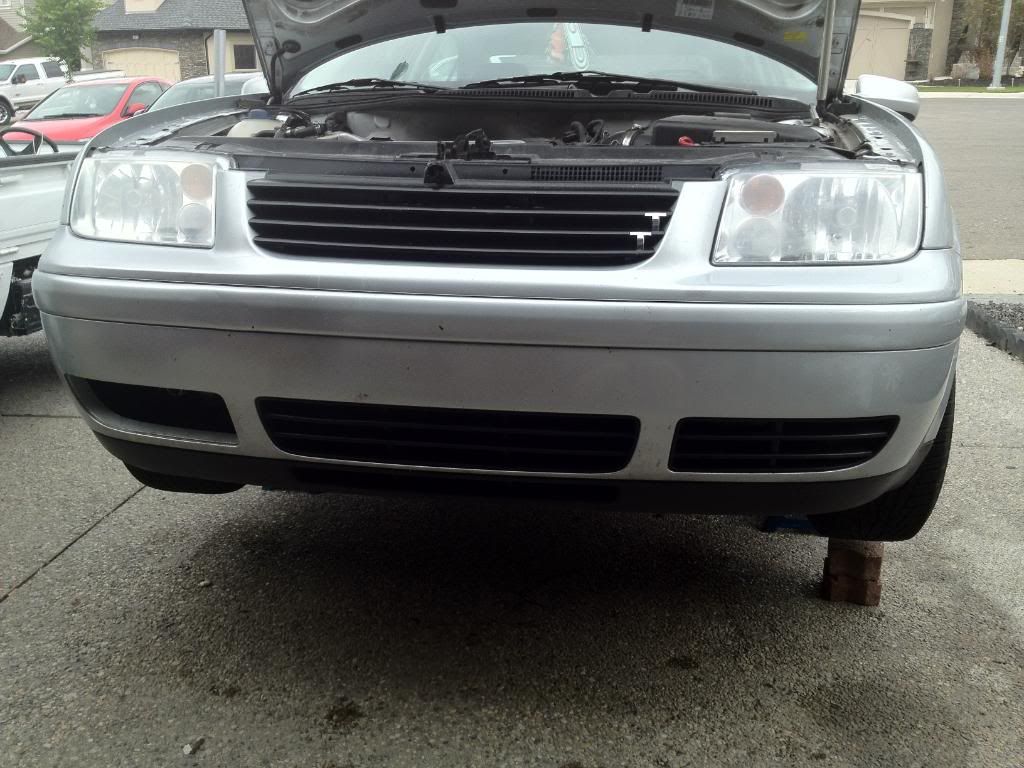 2. Remove all of the torx 20 screws that secure the weather guard to the front valance/bumper
3. Now you can clearly see the lower radiator hose which you will be disconnecting to drain the coolant (NOT THE STEEL HARDLINE, the black hose) lol you can never be too sure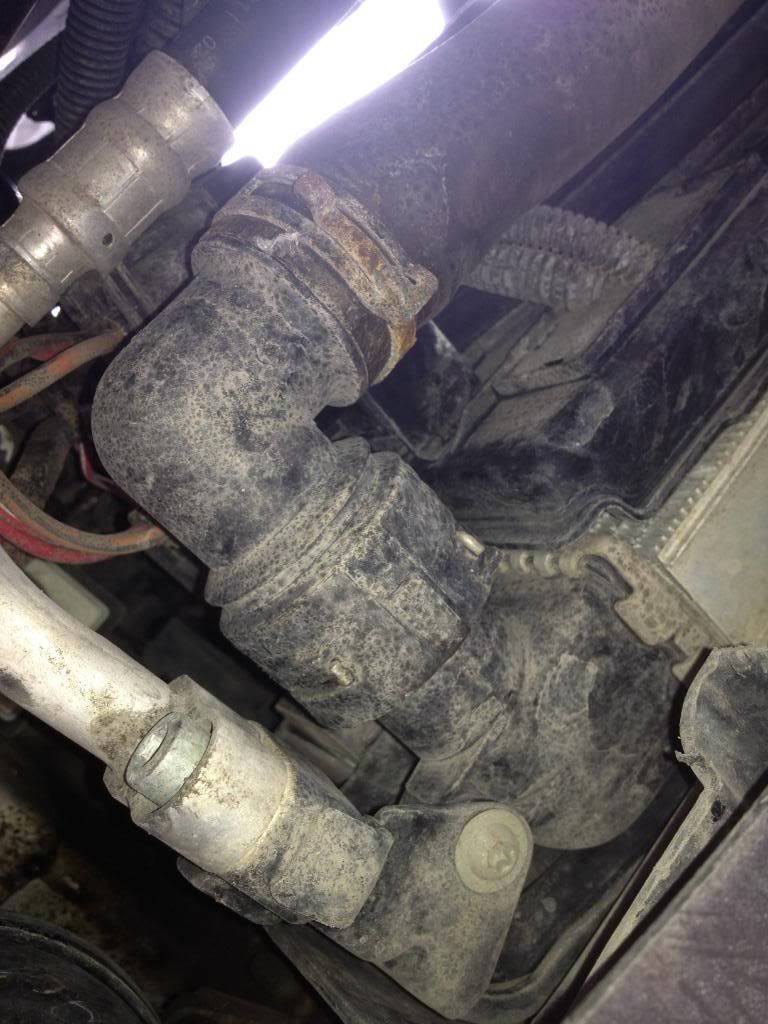 Step 3:
1. Find yourself a big old bucket/container/pan and put it under the lower rad hose
2. Take off the coolant reservoir lid to allow full drainige
2. Disconnect the lower rad hose and allow the coolant to flow out, should take around 5-7 minutes
3. Another method is to unclip the connector from the actual rad, instead of taking off the hose. Honestly, either way is fine, this is just the way i chose to do it.
Step 4:
1. Get in the car and turn your heat all the way up, BUT DONT TURN THE FANS ON.
** This step is very important. Especially if you are flushing out prestone or another cheap brand, because turning your heat on allows the water to flush through both the heater core and with more pressure through the upper half of the rad** DONT START THE CAR, just turn the damn dial
Step 5:
1. After your done letting your coolant drain, you should have quite a bit of coolant in the bottom of the bucket. at this point DISPOSE OF PROPERLY. Despite how much you might hate cats, please dont just pour this **** at the end of your driveway. It can cause some serious issues if your caught, and you never know whos watching.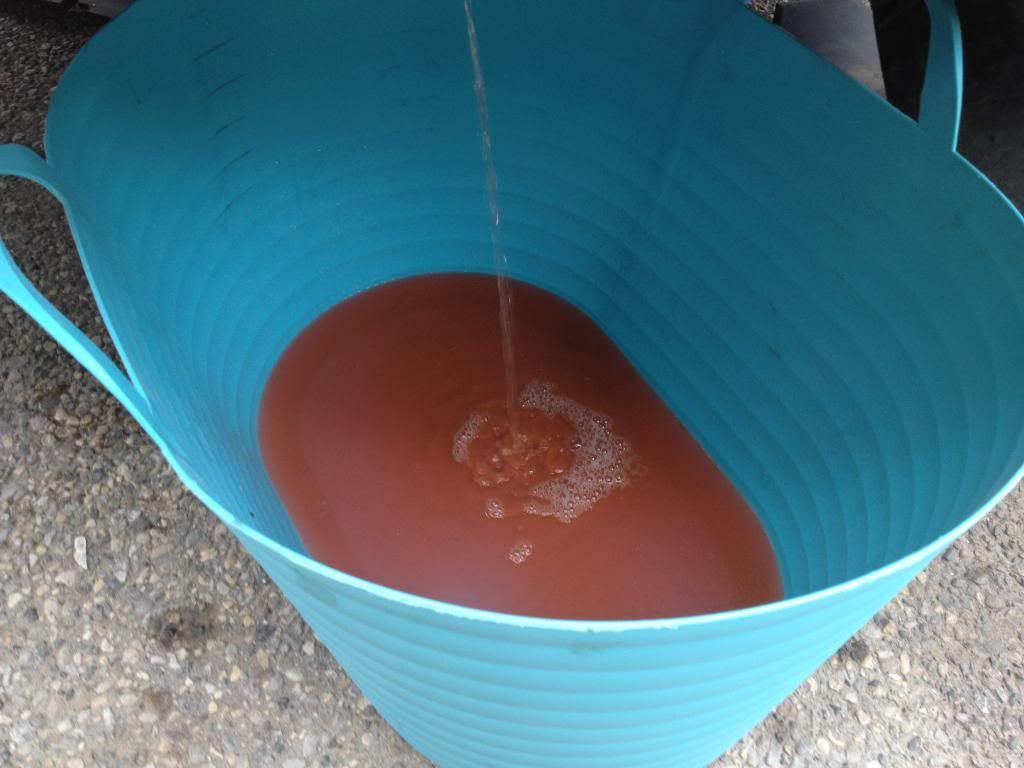 Step 6:
1. Grab your garden hose and dip the end into the coolant reservoir and fire it up (this was the kind of luck i was having that day)
2. Turn your car on WITH THE BUCKET STILL UNDERNEATH
3. Regulate the flow of water so that its not overflowing and soaking your bay, and sit back and watch as all the old crappy coolant is flushed out.
4. Do this for about 10 - 15 minutes, or untill you see the water running clear.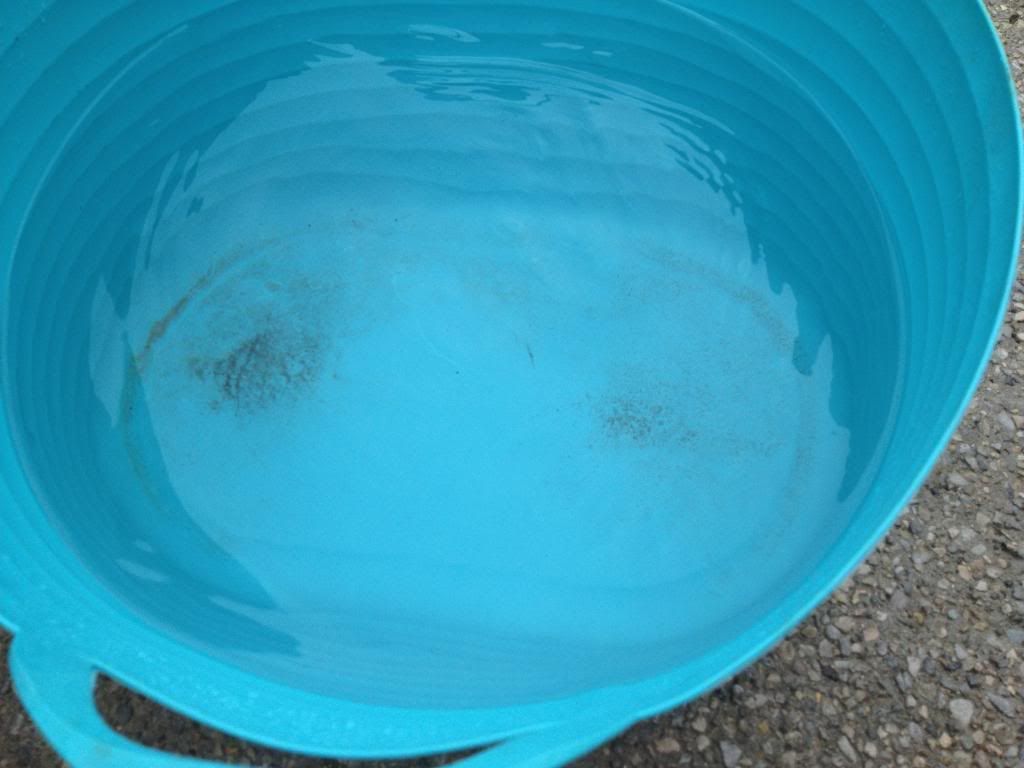 step 7:
1. Remove the hose from the reservoir and allow all of the remaining water to be flushed out.
2. Get in the car and watch and wait for the coolant sensor to trip, showing you that you have very little coolant within the system. once you see this, turn the car off NO MORE THAN 10 SECONDS AFTER YOU SEE THIS WARNING
3. Running the engine dry of coolant (or in this case water) Can do some serious damage to your water pump, and beleive me, you dont want that.
Step 8:
1. Get back under the car and re-connect the lower rad hose, and make sure to put the clamp back as close as you can to where it was in the first place.
Step 9:
Mix yourself up some pink gold IN A VERY CLEAN CONTAINER. This is important. I used an old coolant bottle that i washed repeatedly.
1. MIX the g12 50/50 with ONLY DISTILLED water. You dont want any mineral build up.
2. Pour in coolant untill it reaches the max line
3. Start the car and let it idle untill the coolant level stays the same, then add more untill shes just right.
**Keep some pre mixed coolant in your trunk, because if there is a leak or shes real thirsty, you don't want to run on too little coolant. just for the first week i'd say**
Keep and eye out for leaks as well over the next day or two.
And your done.
Hope it helps!