·
If Your Not 1st Your Last
I know this is a rather easy task but I just changed my fuel filter on my '01 Wolfsburg the other day and didn't see a DIY on here for it, so I figure I'd make my contribution to society. So I know this is super simple and most of you probably know exactly how to do it but I hope I help someone.
TOOLS NEEDED
Jack Lift
Phillips or Flat Head Screwdriver
Bare Hands
You can grab your everyday run of the mill fuel filter from any major parts store for around 12 bucks or so. This one came from O'Reily's for $12.99. Part number is 33521.
Your fuel filter is located on the RIGHT REAR of the car in front of the rear tire. So you will need to jack your car up to get under there and switch it out. Once you get the car lifted up and look in front of the back tire this is what you should see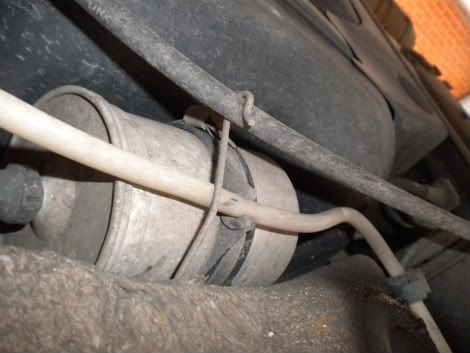 Once you have located the filter itself you are going to need to pop the cables from there clamps so you can get to the filter a little easier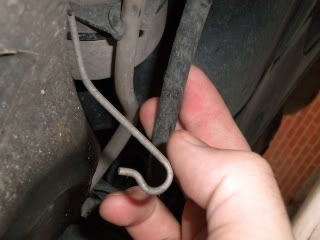 After you have removed those cables you will need to release the filter from its bracket attached to the car. Mine had a Philips head hose clamp wrapped around it
(I know it looks like a flat head only but it actually is a Phillips or flat head which ever you prefer)
This clamp has to be completely unscrewed so the filter will release from the car.
Next you are going to un-clamp the fuel line from both ends of the filter.
I only took picture on the end closest to me the opposite end is exactly the same. Once you have located the clamps they are kind of hard to get off especially after all the road grime gets caught up in them. These clamps are interesting to get to and you really don't want to force/pry them off. If you feel on the clamp you can feel a little "tab" around the bottom of one side.
( I did this after filter was removed for picture purposes)
Your going to want to push that tab in, you may have to mash it several times to get all the dirt loosened up so it will come off. After you get the tab pushed all the way in you'll want to gently twist and pull off the clamp with the tab still depressed. Be careful when you remove these clamps they are the FUEL LINE and if you have driven your car in the last hour or so there will still be pressure in the line and will get a little spew when first removed, not to mention that gasoline is extremely flammable (if you didn't already know). After both clamps have been removed you can pull the filter from the bracket holding it. Try and keep the filter as level as possible because its still full of gas. After removal be sure to dump the filter in the proper place and let it air out for a little while before disposing of it. After all is said and done this should be what you have left.
Notice that is the opposite end clamp of the filter I had to remove that one by feel because I couldn't see to remove it. Assembly is just backwards of what was done. Always check the flow of the fuel filter, it will be clearly marked on the ends of it with IN and OUT, don't put it on backwards. Also be sure that you hear the fuel line clamps click to the filter and wont come off. Other than that after it is all finished the first time you go to crank your car you will have to let it turn over for a few seconds so it can pull fuel through the new filter before it will start.
Like I said this is a really easy task and the majority of you know what to do any way, but I figured it couldn't hurt if there was a DIY on it anyway.
BTW this is my first DIY on these forums so try and take it easy on my as far as comments go. Thanks and Good Luck