Discussion Starter
·
#1
·
This DIY will show you a cheaper method of getting your notch filled, rather than having a body shop rape your wallet. This is the full process, But i only have photos for the sanding and painting stages, because i had done mine previously.
**DO NOT ATTEMPT IF YOU ARENT COMFORTABLE WITH A PAINT SPRAYER OR AUTO BODY PAINTING IN GENERAL**
Tools:
- JB weld Steel Stik, Tech Steel or any steel reinforced epoxy
- TSP (love this stuff)
- Distilled water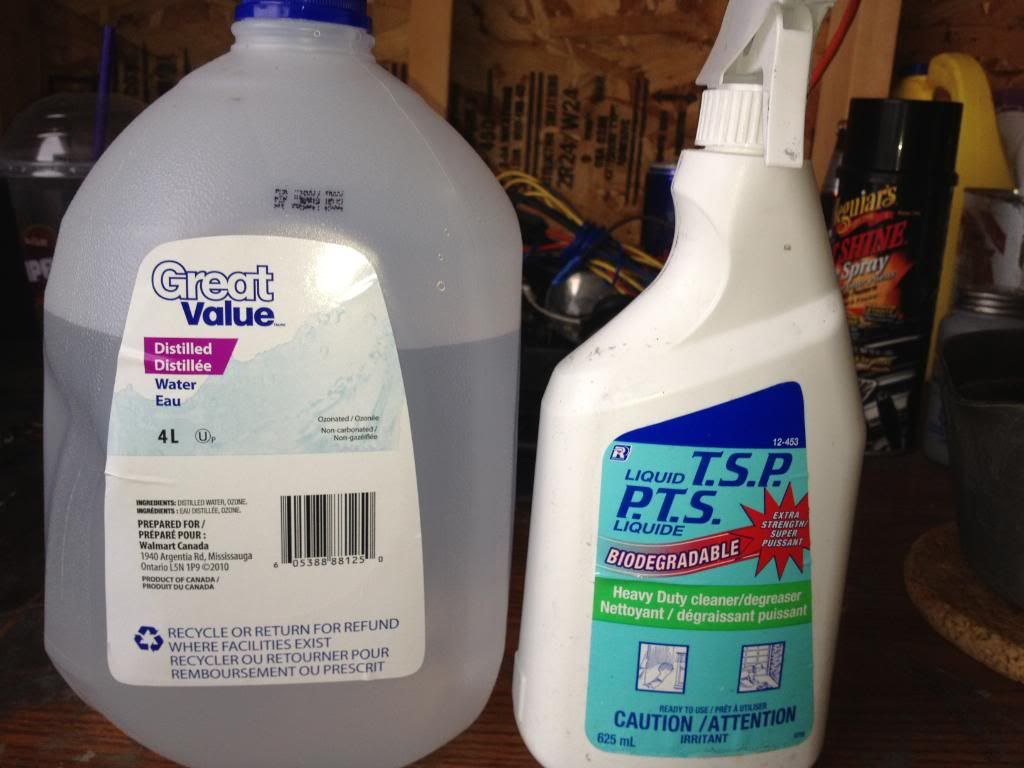 - Sandpaper (400, 800, 1000, 1500)
- Color Matched paint (Search color codes on vortex if you dont know)
- Clear Coat
- Patience and attention to detail
- Notch filler that comes with grille
- SuperStick or another epoxy adhesive
Step one:
Epoxy the notch fill that was supplied with your grille to the hood. To ensure a good bond, i clamped mine. If the notch fill wasnt supplied, check your local vDub shop, im sure they'll have one.
Step 2: STICK STUFF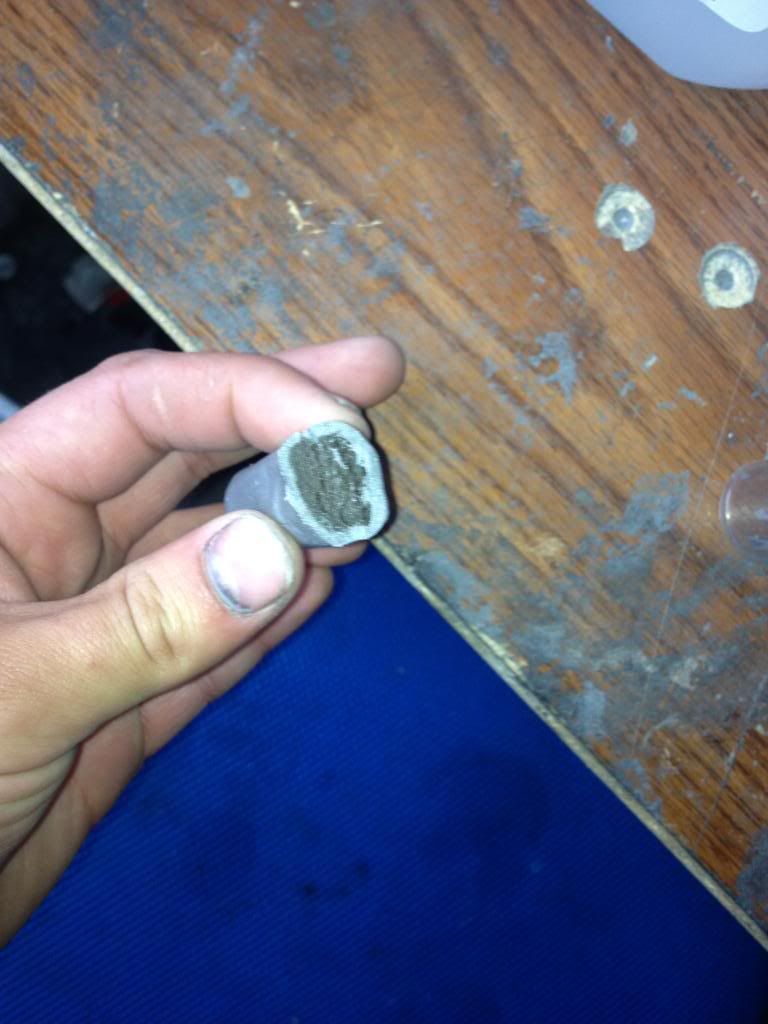 - After the fill is in, apply your tech steel or steel stik on top and around the crevases on the hood itself AS WELL AS around to the back or bottom of the hood. Using more is alot better than using less.
**Wet the tips of your fingers and push the resin into every crack. you do not want to let this dry, then have to fill another crack or bubble. If you thoroughly work it in, it will come out smooth as a dolphins ass cheeks
Step 3:
- After you have let the resin set and dry (read the directions), Start to HAND SAND the notch down. The reason why i stress hand sanding is for precision. If you use a palm sander or a mouse, theres a very good chance you could sand somewhere were you shouldnt have, and then you will have to fill and sand and prime and paint that area as well.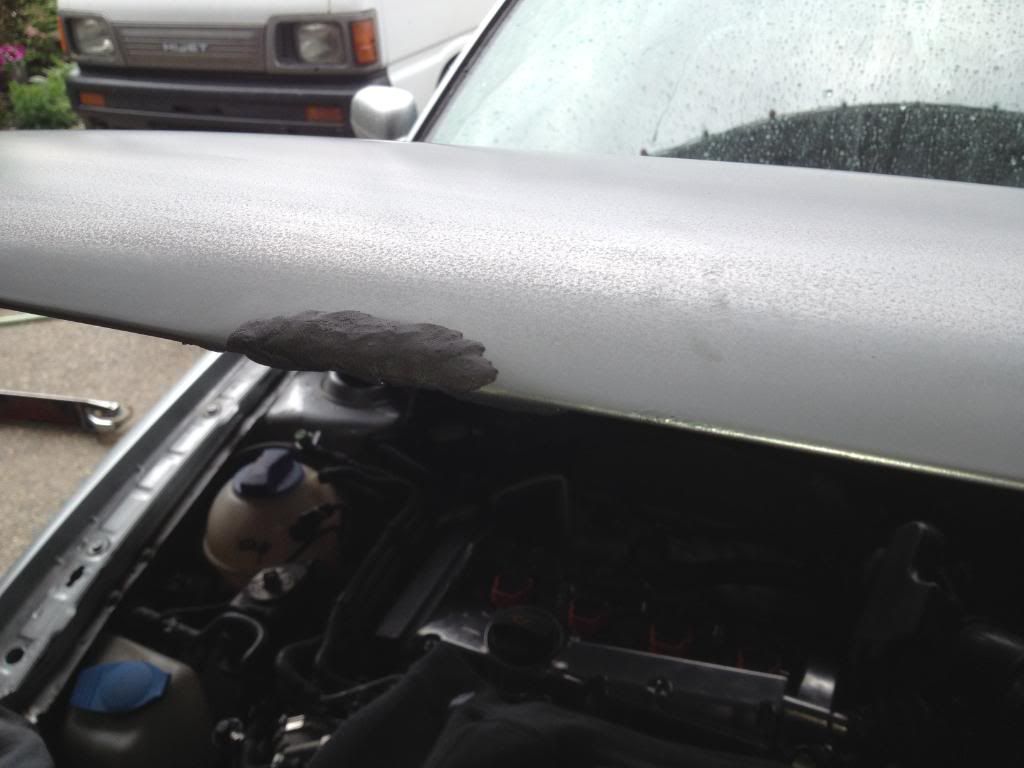 - Start with the 400 (NOTHING LESS. anything less WILL scar the paint if you accidently hit it. which you will) and WET sand down the access. Wet sanding is also important because it will ensure a smooth sand as well as keeping dust from going everywhere.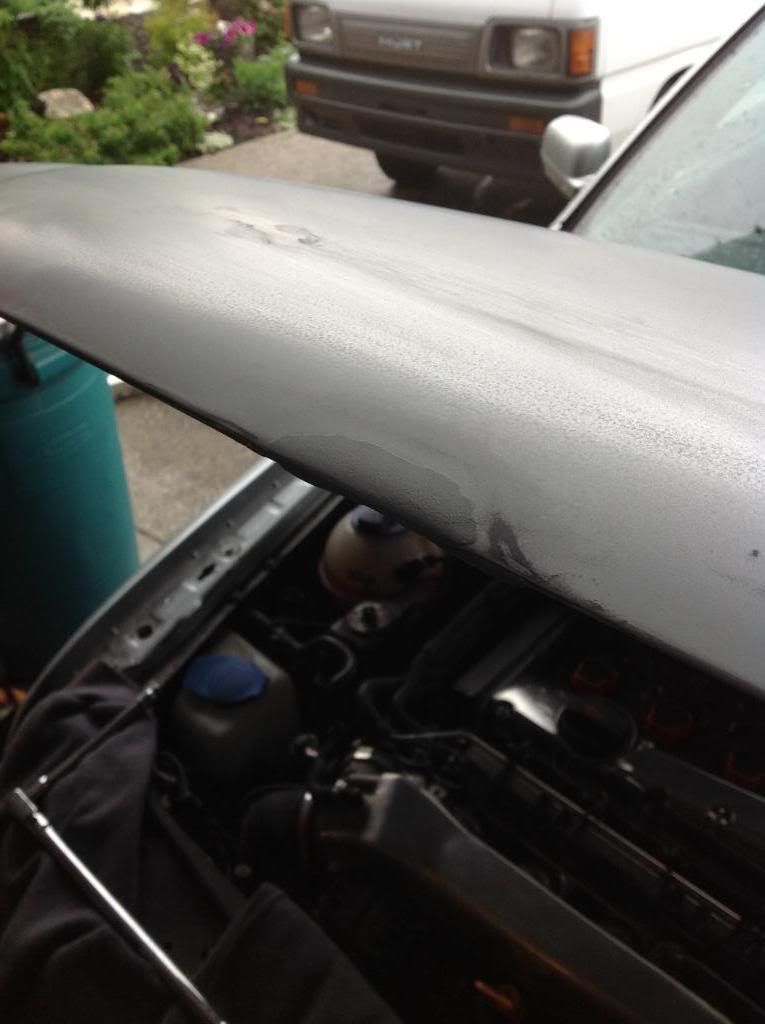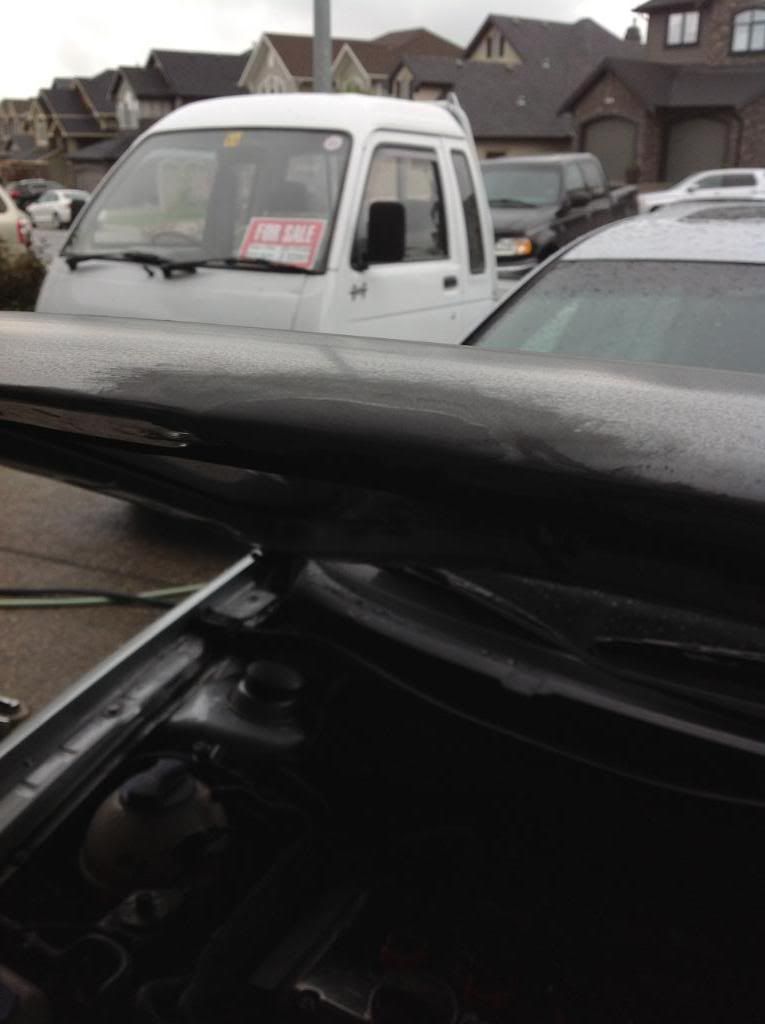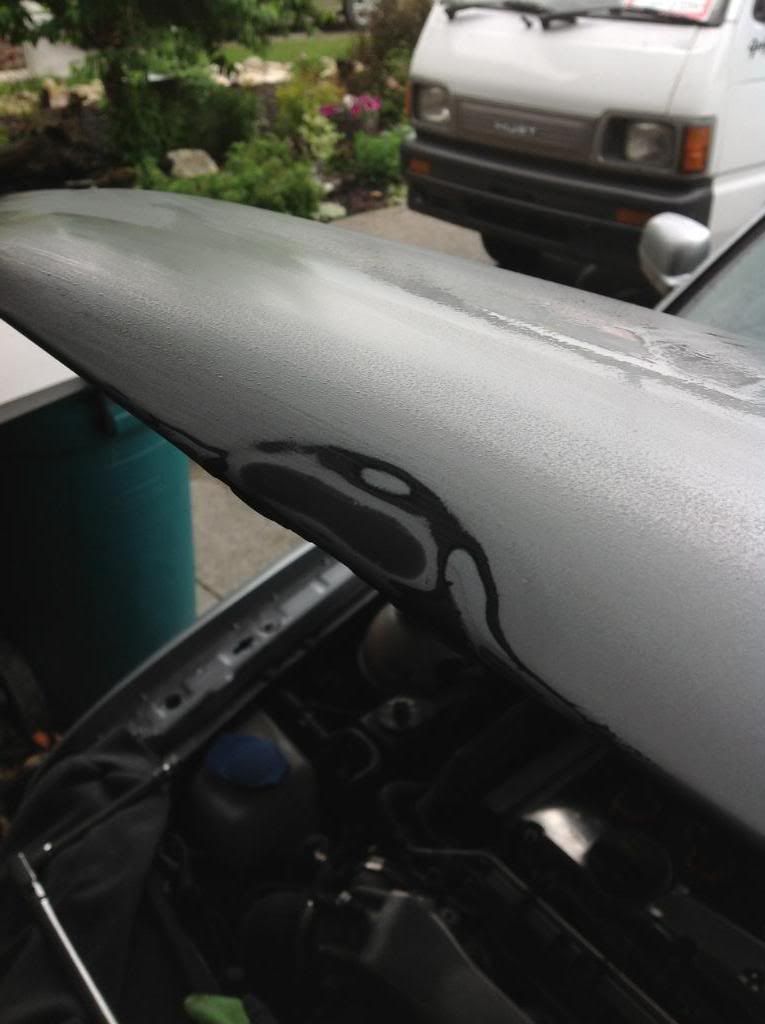 - do your best to profile the fill with the rest of the hood, and keep it as flush as possible. Beleive me, any imperfection will be seen, even through the primer and paint.
- After you feel your hood is flush from every angle, bottom, top etc, run your hand with your eyes closed along the top of the hood, and with one finger, along the end of it, and if you feel nothing but a change in texture, your good to go
Step 4: Prime
- Spray down the area with distilled water (the lack of minerals leaves no gunk behind and gives your finish perfect smoothness) and then TSP. TSP (Tri-Sodium Phosphate) is a pre painting spray that i discovered a while ago and it honestly is the greatest pre paint cleaner ive ever used. Spray it on and wipe it off with a clean rag, Then go over that area again with distilled water.
- Now you can start priming. With even sweeping motions, go across the notch and apply a light coat.
- let dry for 15 minutes, then sand down with 800 grit. Not a hard sand, Just to even it out. ** THIS is the most difficult part, getting it even.**
- Rinse and repeat this whole process roughly 10 times untill you feel and see that there is NO IMPERFECTIONS. Paint wont hide and dips or dents, it accentuates them.
- After about 10 times, your notch should look perfectly smooth and flawless.
1st coat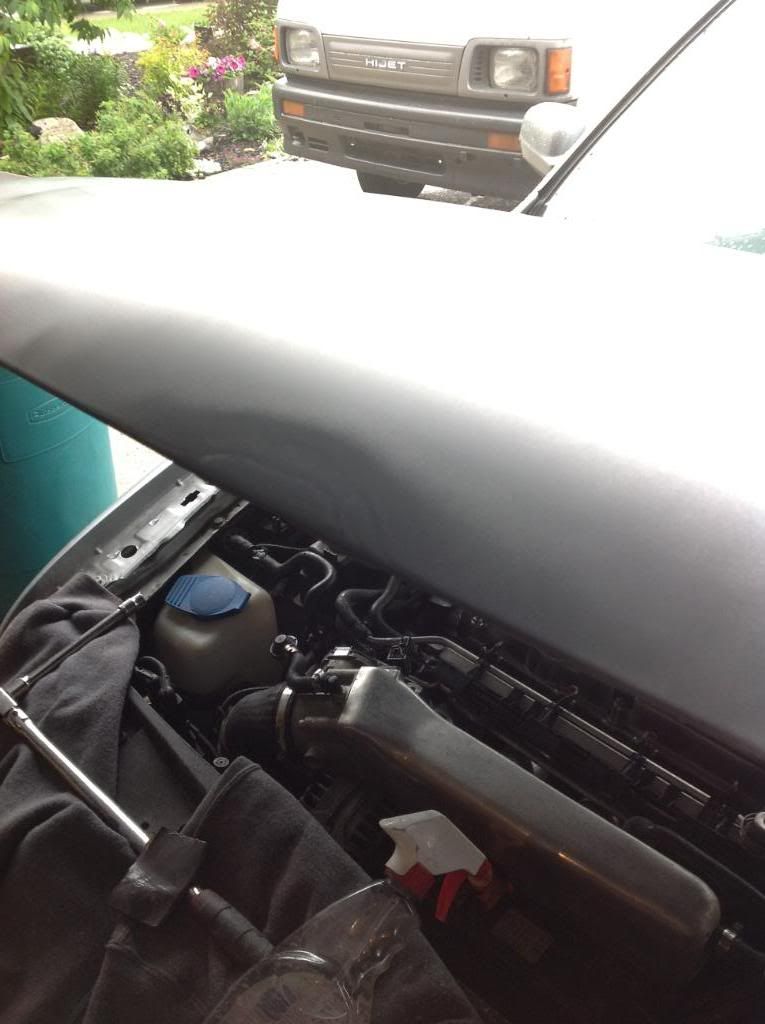 5th coat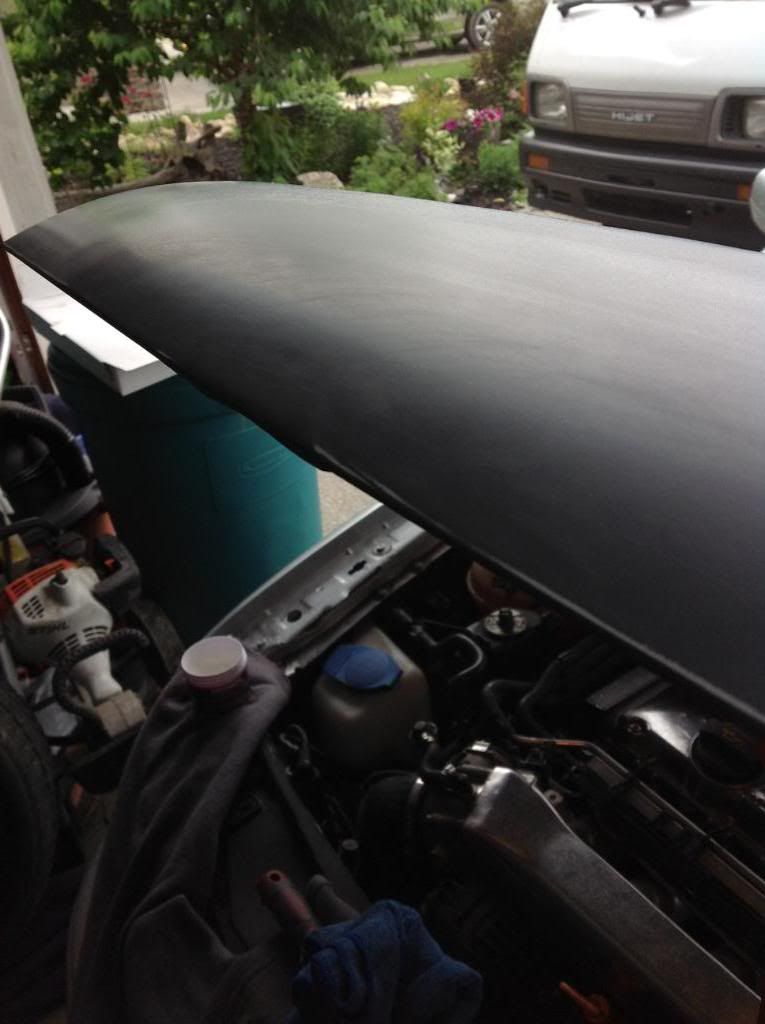 10th coat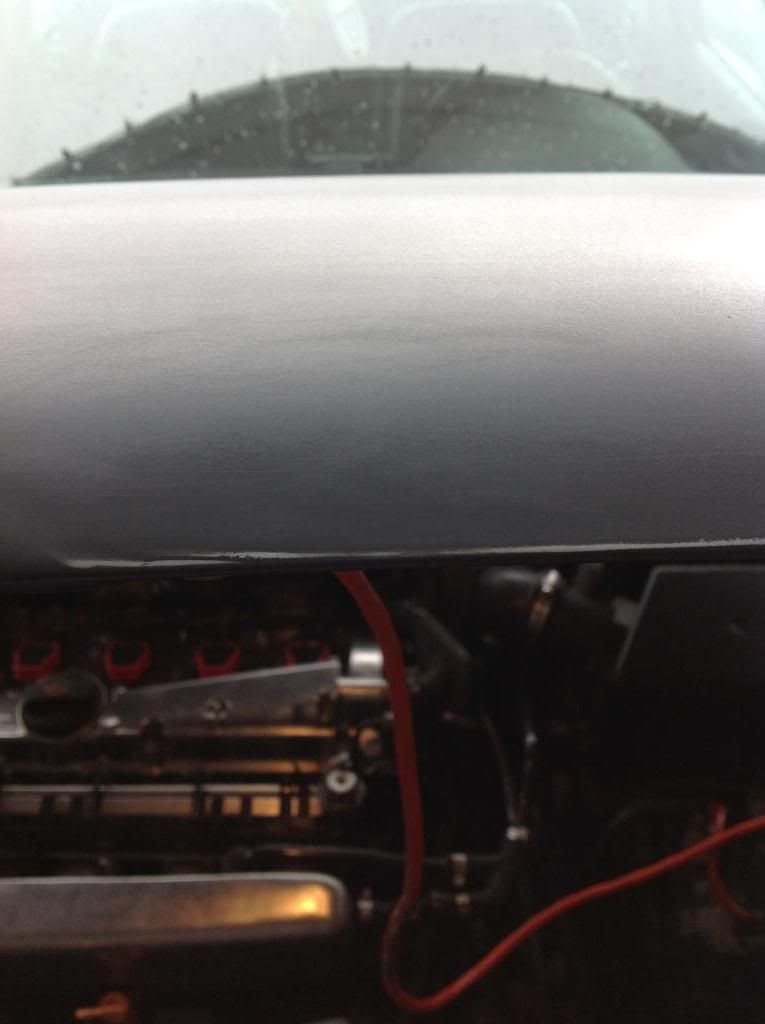 Step 5 Paint:
- Relativley straight forward, just clean off the hood completley with TSP and DW then mask off the headlights, grille ETC and give her a nice even light coat.
- **FOR THOSE WITHOUT A SPRAY GUN** I have had alot of luck with my color (reflex silver) with the Duplicolor color match paint from your local hardware store. I personally wouldnt use it, but then again im a complete perfectionist.
- For the graffiti artists, Go in light even strokes across your knotch, and try and not go too high up on the hood with the color match paint. The reason for this is that to acheive the sparkle, they add in tiny flakes which actually dont come out smooth - thus giving you a half gloss, half matte hood.
- After your paints all dry, Give her some clear coat, let that dry and buff it out to a shine and voila, your brand new flawless notch fill, for about $40 and an afternoon.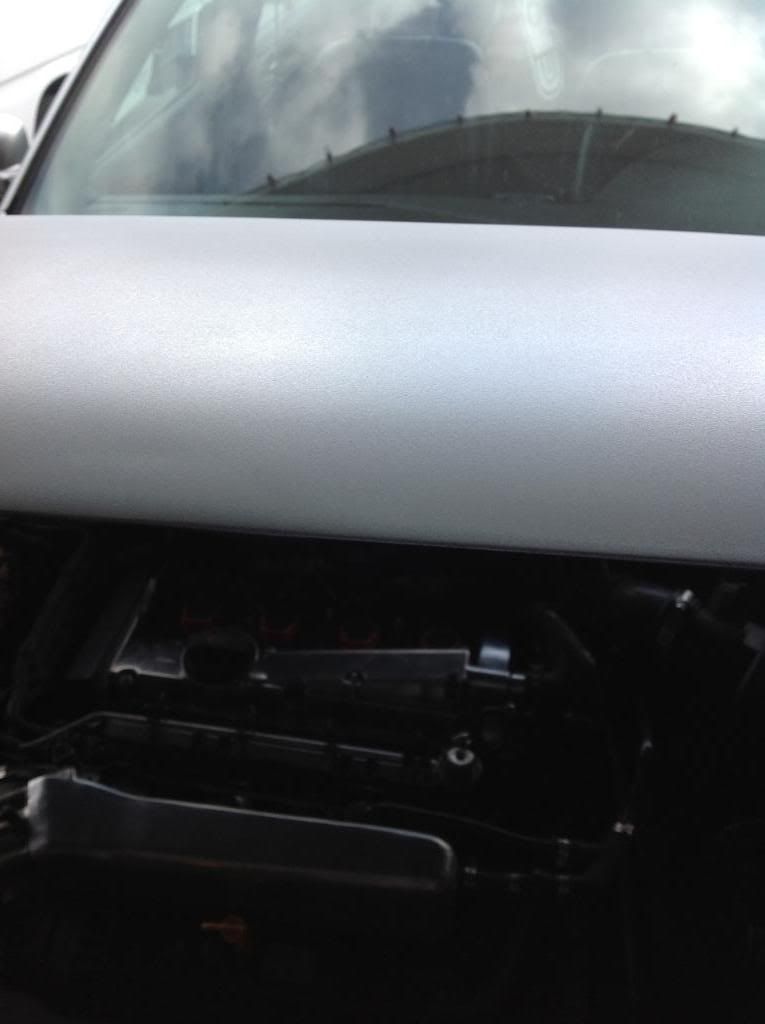 The more time and attention to detail you pay to this job, the better it will turn out. This is mine, Took me about 6 hours of priming, sanding, priming sanding x15, but its worth it
Hope this helps!