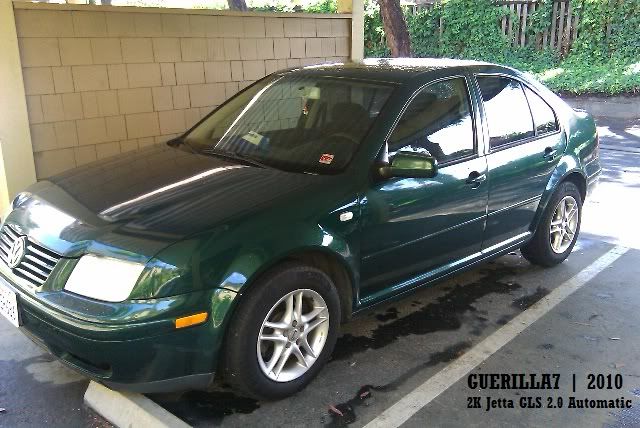 I guess this will be the obligatory BEFORE picture, since I will be doing a couple of restorations/mods on this baby just to make it look clean
Last month, I was able to save enough money and had a rare luxury to purchase a used 2K Jetta 2.0 GLS Automatic from a common friend in Fremont, CA. This is my first car ever and I am totally loving the handling and acceleration of this car compared to the rental cars in the same class I am used to drive for work. I love driving the Freeways now with this baby.
Today, I had my baptism in fire because the battery died on me and had to jumpstart it. Immediately ran to the nearest Kragens to have it checked and they did find the battery is almost dead. Being a 100% noob in automobiles, I had to use my Android Phone and Google "How to change the battery of a Jetta 200 GLS" keywords that same instant because they cannot change the battery, I have to remove and replace it on my own. Oh $h!t, I have ZERO knowledge in cars and this is my first time doing this, and I do not even have the right tools with me.
How do you replace the battery on a 2000 VW Jetta?
http://wiki.answers.com/Q/How_do_you_replace_the_battery_on_a_2000_VW_Jetta
Nevertheless I did my best and I was able to remove old battery and replace it with the new one in about an hour and 30 minutes, and I owe 2 guys at Kragen's Union Square, Jesus and Joel, (Jesus, seriously, my savior, lol) for sticking with me, lending me the tools, a flashlight, and making sure I did everything correctly without the battery being loose within the enclosure. They close 9PM PST and I was done by 9:30PM PST.
I must say, removing and replacing the battery was a hard task, but good thing you can find anything on the Internet nowadays and someone will always be there to lend a hand.
My next project is to replace the front bumper and the two side mirrors. I heard it is going to be tricky since power window requires removing the entire door panel.
Wish me luck guys and more power to Jetta Junkie!