Discussion Starter
·
#1
·
So I've had some people ask me how, and I figured since I wanted to paint my rear emblem back to a solid black anyways, I'd snap some photos and make a little DIY.
So its not as simple as on a GTI, where you can just take it off. You have to remove the whole trunk lock mechanism. Don't worry, its pretty easy. It takes about 5-10 minutes tops. First off you'll need these items:
Screw driver
torx bit
a flat blade screw driver
(optional) little scraper tool of some sort.
tub or bowl for screws
So first off, open your trunk and look at the carpet liner. There will be little screws, camoflauged with fuzz (Circled in red below). take these out slowly as they aren't the greatest quality, and strip easily.
Wiggle it off and set it somewhere safe. you'll see the trunk mechanism.
It looks a bit overwhelming, but its actually very simple. First thing you do is remove this orange plug from the white clips. pull it out gently and then take your flat blade. Stick it in the little hole and wiggle it to one side with a bit of pressure until it releases.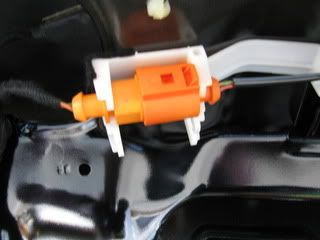 Follow the right side until you come to a small clip that holds the wire in place. remove the wire from the clip, and let it hang.
This where things get a bit tight. If you look at the trunk mechanism, youll see a black plastic clamp (circled in red) around a piece of metal. the plastic just clamps around the metal, and it will just flap open when you pull on side of it back. If the clamp doesnt open almost immediately, your probably doing it wrong. don't break anything!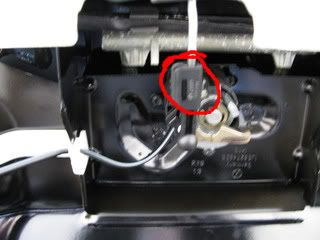 Next is the most annoying part, especially if you have big hands. There will be 3 torx head screws in a triangle around the trunk lock that hold the whole thing in place. the first two on the left are circled in red below.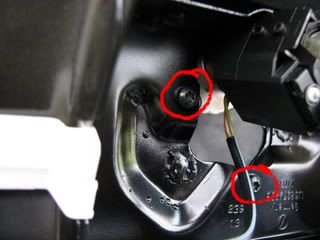 The last one is RIGHT against the mechanism (circled in red below), and a real pain to get out. Just take your time and dont strip it.
Once you do this, just push the mechanism up through the hole. the rubber sealent piece might stick. so just shove it a bit.
this is what the whole thing looks like when you take it out.
To remove the emblem from the mechanism, there are a couple small screws on the back, and then double sided sticky tape stuff holds the emblem to the black backing piece and the rubber sealant piece. (I've seen some MKIV's that have something else holding the emblem onto the lock mechanism, rivets or something. Sorry if your car has these, mine was just sticky tape). when you put your emblem back together, use double sided sticky tape or something that can be removed. DO NOT use super glue in case you want to repaint it or something.
Just reverse the process to put it back in there. The only thing to worry about is when you put the carpet liner in, make sure the screws go in straight, or else you can't put the last few in, and some get stripped.