So here it is! I talk about Seafoam all the time, and how its a great tuneup item that everybody should get their hands on. This is the official DIY. There's lots of them out there, especially on Vortex, but this is the single proper way to do it.
I did it on my 2004.5 Jetta GLI 1.8T, but this procedure works the same for naturally aspirated engines too.
Lets get to business...
*** Before you even start this process, make sure the engine is up to operating temperature. DO NOT perform a Seafoam tune-up while the engine is cold!
Materials you'll need:
1. A can of seafoam, ofcourse! $10, available at your local autozone/advance auto.
2. A cup. I used a flimsey paper cup, but I'm sure you kids have some Solo's laying around somewhere
3. A buddy! Yes, you will need another person to help you out. Make sure he/she has a steady throttle foot.
4. 1.5 feet of CLEAR 1/4'' vacuum hose. I got mine from NAPA for $1.12. 1/4'' is the right size for the 1.8T models, but I'm not sure about VR6 or 2.0 engines. Just have one of the guys come outside and measure the proper vacuum source, which you'll see later in the DIY.
5. 1 golf tee (not pictured below).
6. (Optional, and not pictured below) Small universal hose clamp... Screw type. Maybe $0.40 at your local hardware store/walmart.
*Don't mind that male-male fitting in the picture. I was gonna use it and decided against it.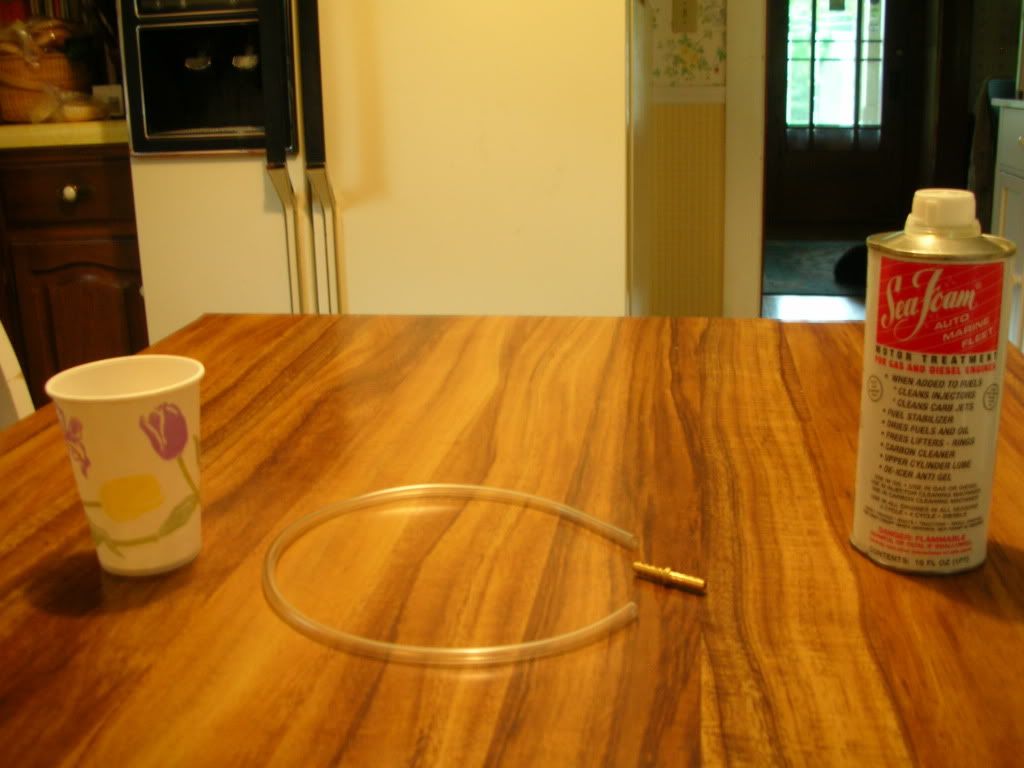 Step 1. 50% of the Seafoam gets dumped into the cup.
Step 2. Go out to the car open the hood, and remove the top throttle body hose. Its one of those ''One time use crush clamps''. Somehow I got mine back on, but I reccomend replacing it with a small universal hose clamp.
Once it's off, insert the 1/4'' vacuum hose into the throttle body section, and insert the golf tee into the black TB hose you just removed. The tee is also optional, but it helps reduce vacuum leakage, and keeps idle steadier while performing the following steps.
Step 3. Have your buddy turn the engine on, and mentally come to terms with what you're about to do... Which is, suck liquid directly into your engine lol.
Step 4. As soon as the engine fires up, have the other guy/girl rev AND hold the motor at 2,000 - 2,500 RPM's.
Step 5. Cup in hand, begin dipping the end of the clear vacuum hose into the seafoam. The trick here is not to let the vacuum hose submerge into the liquid. You want to just suck SOME of the Seafoam from the surface, dipping frequently, but allowing air to be sucked in with the liquid. You never want to see the hose completely filled with liquid. After a couple minutes, you'll get the hang of it, and be able to steadily suck a nice mixture of air/seafoam into the engine. Another key point here is, DO NOT LET THE ENGINE STALL! If this does happen, wait a couple seconds, start it up, and continue, but if you're patient, this won't happen.
By this point, you'll realize Seafoam creates ALOT of smoke lol, and it's entirely normal.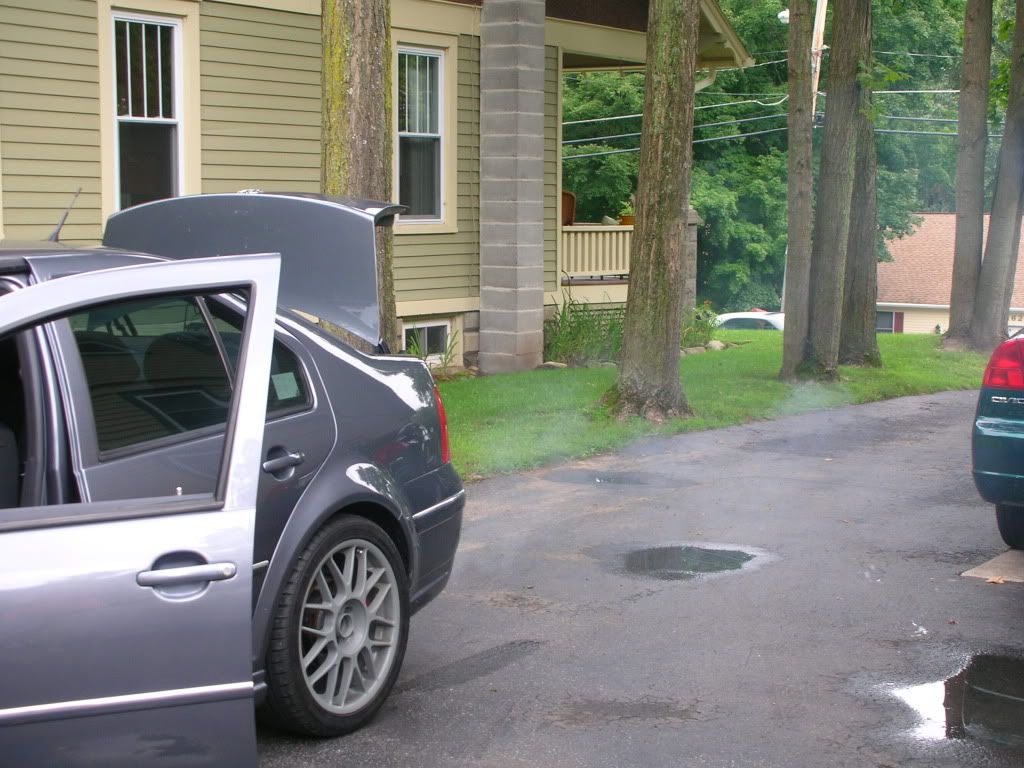 Step 6: As soon as all of the Seafoam has been sucked into the engine, cut the ignition, and patiently wait **5-10 minutes**.
Step 7. After no more than 10 minutes, get back in the car, and fire her up. You'll notice a nice plume of smoke upon ignition lol. From here, let it idle for approximately 10 minutes. After 10 minutes has passed, get in the car, and drive it around untill smoke no longer comes out of the tail pipe, or, about another 10 minutes. You can scroll around like your grandmother, or drive like you're in the WRC, either way you'll get the job done, and not damage the car.
Now, you have 2 options. You can leave it at that, or go all out. I personally chose to go all out. BUT, if you do the following, you're on a strict time limit.
What you CAN do (its not necessary) is use up the remaining Seafoam to clean out your injectors, fuel tank, fuel lines, fuel pump, as well as the valve/cam housing, crank case, and oil pan.
Pour 1/2 of the remaining Seafoam (or, 1/4 of the total bottle) into your oil. Then, pour the last of the Seafoam into your fuel tank.
If you so choose to do these final steps, you will NEED to burn that entire tank of fuel before you change your oil, AND you will need to change your oil no later than
1 week
after Seafoaming.
If you DO NOT pour Seafoam into your oil/fuel tank, you will still need to change your oil within 1 week maximum, but no sooner than 1 day after.
Results: Idle is MUCH steadier (wasn't even bad before, but now it doesn't move at all), steadier vacuum, smoother acceleration, more powerful acceleration (third gear felt quite a bit more powerful), steadier boost throughout the RPM range, and 1 more mpg average.
Necessary time: Approx. 45 - 60 minutes.