Discussion Starter
•
#1
•
Doing my chains and I'm having an issue with the chain tension between the cams. I have just a tiny amount of slack between them. Enough that when I roll the engine over the front bank cam (2,4,6) lines up, but the 1,3,5 cam is just ever so slightly off and there is good tension between the chains. I mean a tiny amount. When I took it apart I could slide the tool in both cams, now I have to barely adjust the rear one.
After rolling the engine over
Notice how close it is
This is the slack in the chain after aligning cam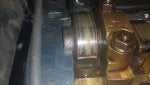 So is that a half tooth off? Is it normal? I doubt that because they're both supposed to align. I've tried everything and believe me that front cam was the bane of my existence to align. For some reason this engine doesn't want to tense on the correct side on the sprocket but I've got it now. Please don't tell me I've gotta take it back apart. Also that camshaft rolled forward twice while trying to align it with the plate out. It couldn't bend a valve just rolling by itself correct? It'll just stop?